Essig PLM's Nexa solution offers comprehensive out-of-the-box functionality without costly and lengthy customization. Nexa is flexible to adapt to the way you do business and scalable to grow at your pace.
Nexa provides a reliable, scalable solution for product development enabling companies to manage complex products, processes and multi-site collaboration. Product Data Management (PDM) is at the heart of Nexa's PLM capabilities, laying the foundation for delivering a comprehensive Bill of Information that provides visibility into all product related information.
Nexa offers a CAD agnostic approach to data management. Coupled with the ability to manage complex CAD hierarchies, it delivers a consistent end user experience regardless of the CAD application.  Configurable with out-of-the-box features and capabilities, it supports SMBs and global, multi-site organizations.
Essig PLM realizes that there are still thousands of companies producing products and providing critical supply chain components that either haven't taken their first steps with PDM / PLM or have invested in and outgrown software solutions or have been acquired and are in need of an alternative approach.  Nexa is your first step or next step in addressing data management requirements, process improvements, configuration management and getting control of your product data.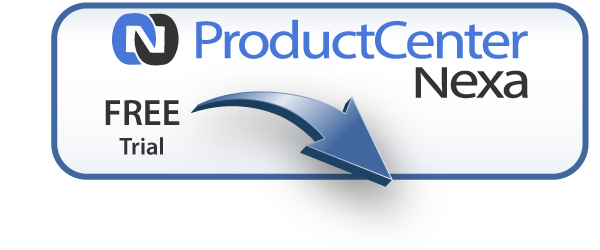 Select Language to View/Download
NEXA OVERVIEW DATASHEET
Evaluate PLM > Learn More
Evaluate PLM > Learn More
Introduction to Nexa: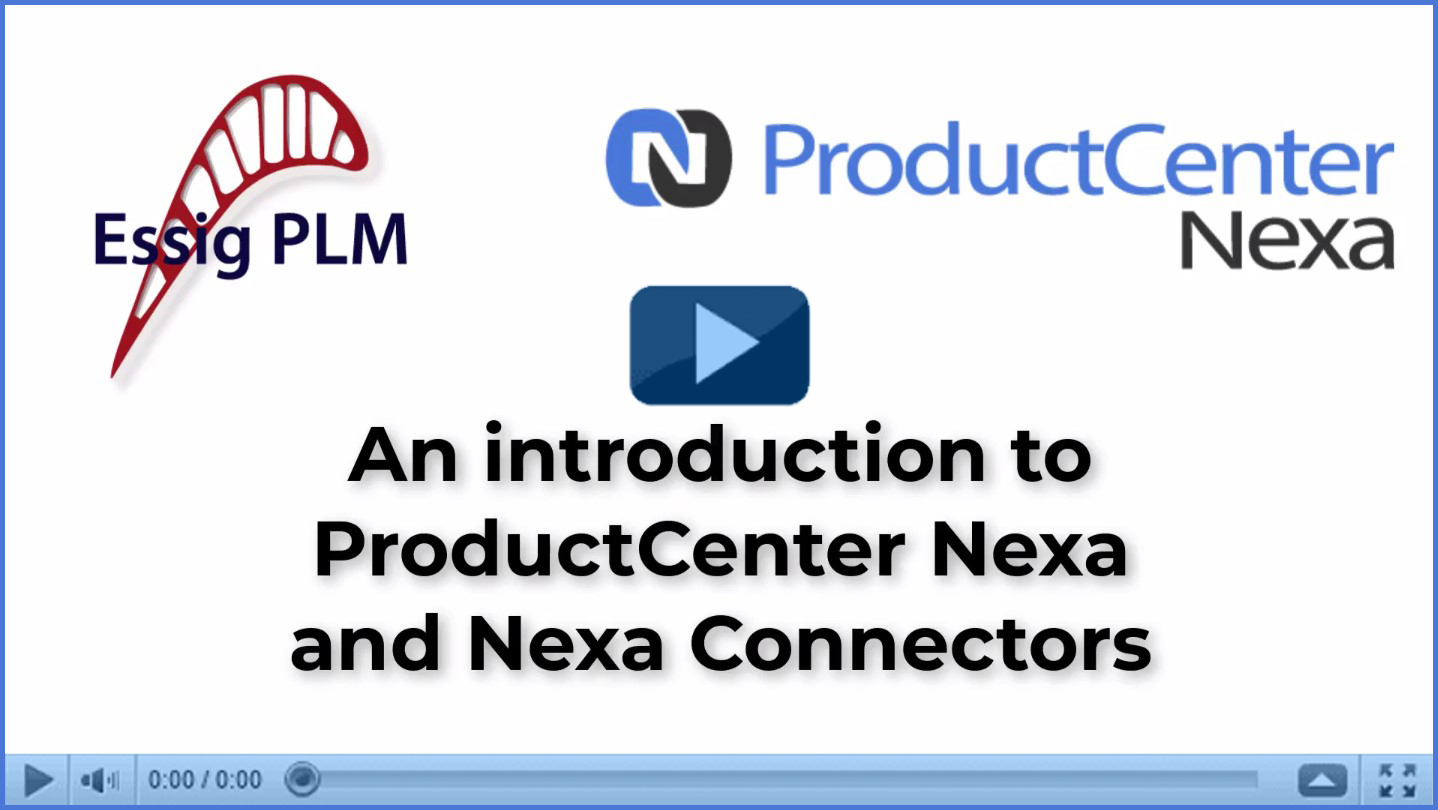 Nexa is free to download and use
Download Nexa as a trial, proof of concept or for departmental use of up to five (5) users.
ProductCenter Nexa
Version 2.0.0 Server, Web Application Installers, Installation Guide and User Guide
CAD Connectors for Nexa
Version 2.0.0 for SolidWorks 2022, 2021, 2020; Inventor 2022, 2021, 2020; AutoCAD 2022, 2021, 2020; NX 1926, 1899, 12; and Creo 7.0 or 6.0*
*If interested in Creo, please contact info@essigplm.com. Requires End User to own the PTC Creo Toolkit.
How many users are included in the free trial?
How long can Nexa be used for free?
What happens at the end of the year?
The temporary key will expire, a new key will need to be requested.
What if I need to support more than 5 users?
What if I need more than 1 CAD Connector?
What databases are supported?
SQL Server or SQL Server Express
What CAD Packages are supported?
Solidworks, Inventor, AutoCAD, NX and Creo
How do I create new users?
Is support available as a free Nexa user?
What browsers does Nexa support?
What operating systems does Nexa support?
Windows 10 Anniversary Update or newer Windows Server 2016-2019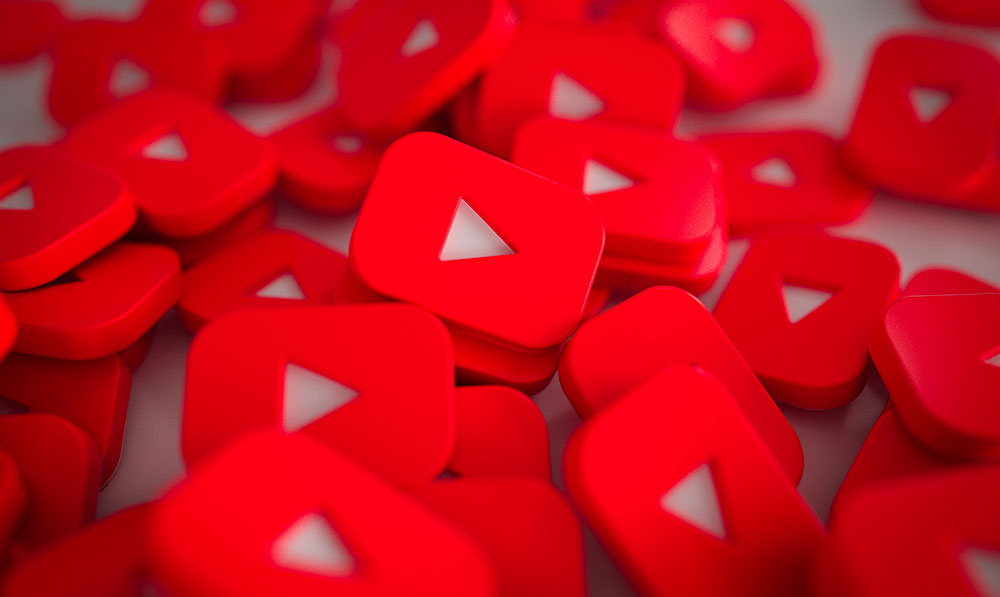 Essig PLM has launched a Nexa YouTube Channel for curated video tutorials to support our Nexa User Community.
Subscribe to our channel to learn more and keep up to date with Video Tutorials highlighting Nexa capabilities, features and use cases.
As a pioneer in the PDM solution space, Essig PLM has decades of experience in developing, implementing and supporting PDM and PLM solutions for end users around the world.
Contact us to learn more info@essigplm.com.
Below you will find more information on each Nexa PLM component with links to data sheets on the individual product modules that make up these solutions.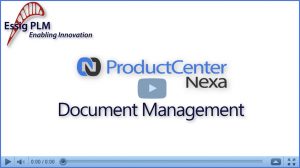 Nexa PLM 
Document Management
 centralizes and connects all forms of product information. It provides the information accessibility, visibility, and control that you need to better manage — and fully exploit — your entire base of product knowledge. You also benefit with easy-to-use reporting and user customizable PLM portals that keeps management and employees alike abreast of product and project status with live-fed, job-specific content delivered — how, when, and where they need it.

Features:
Secure, distributed vaulting
Data access across the Web
Comprehensive version and revision control
User Customized Web Portals
Viewable file generation
Automated legacy data capture
Please select preferred language:
Product Modules:
Lean more about our Document Management Product Modules:

Nexa PLM 
Design Integration
 lets your diverse product teams perform PLM functions as a seamless part of the design and support applications they use daily such as SolidWorks, Inventor, AutoCAD and many others. The result is much wider adoption of PLM that improves the management of every element of product information produced throughout the product lifecycle.
Features:
In-depth application integration
PLM within native CAD interface
Hierarchy explorer to explode and explore product configurations
Quick data query and extraction
Product Modules:
Learn more about our Design Integration Product Modules:
Nexa Connectors:

Spreadsheets simply don't cut it for managing complex bills of material (BOMs). Nexa PLM 
Configuration Management
 provides standard organization for parts with various part types and attributes and all information managed and accessible through the Hierarchy Explorer and BOM Editor. It maintains a more comprehensive, fully integrated — and useful — Bill of Information that consolidates and links every information item used to design, produce, and support your products. For added convenience, it also enables direction population of BOMs directly from CAD models and the exchange engineering BOMs with downstream ERP, MRP, and SCM systems
Features:
Comprehensive release management
Advanced bills of material management
Centralized and synchronized enterprise product data

Nexa PLM 
Process Management
 automates and accelerates repeatable, mistake-proof business processes such as design and change approvals — in fact, almost any business process requiring workflow. Nexa Process Management standardizes and automates product development and release processes across your company to save considerable amounts of time and cost off product development schedules and changes, while keeping efforts in check with regulatory requirements such as FDA and ISO.
Features:
Process automation including document approvals and release
Email notification
Engineering change management
Regulatory compliance

Nexa PLM 
Product Collaboration
 offers solutions to facilitate design reviews and collaborative product team meetings, connecting and maximizing the creative input of your people, suppliers, and customers regardless of their location. Also, with the results of online sessions and document markups saved and linked to original files in Nexa, you capture those all-important lessons learned to jumpstart future projects.
Features:
On-line collaboration sessions
Advanced 3D visualization
Meeting results captured and linked to file original in Nexa
Nexa Bill of Information
The biggest gains to be achieved in next generation Product Lifecycle Management (PLM) implementations will be seen by companies that adopt a Bill of Information (BOI) approach which enables the real-time management and reporting from the entire compilation of information at any point along a product's lifecycle – from concept through retirement.
Product companies use the term Bill of Materials (BOM) to describe the components that once assembled, represent a finished product. However, the BOM does not describe how the idea became a product which generated revenue.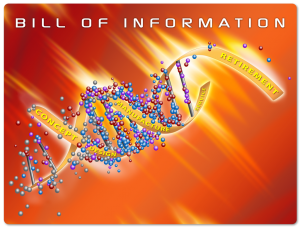 With Nexa, Essig PLM uses the tern Bill of Information.  Like our DNA, the Nexa BOI serves as a comprehensive "blue print" for all of the information about the product, its relationships, and dependencies including the Bill of Materials (BOM) definition.
The Nexa BOI captures the entire data set required for design, testing, manufacture, delivery, sale, and support of a product throughout its lifecycle. Having all of this information available allows very tailored and specific pieces of information to be presented to various users, groups, departments and suppliers for example.
The Nexa BOI will enhance your competitive edge by:
Streamlining product data and processes
Reducing development cycle times
Improving the quality and reliability of the release to manufacturing and time to market
Read More on the Bill of Information:
The Comprehensive Bill of Information
Companies that adopt a Bill of Information (BOI) approach with their Product Lifecycle Management (PLM) implementations will achieve the biggest gains. The BOI enables the real-time management and reporting from the entire collection of information at any point along a product's lifecycle – from concept through retirement.
Essig PLM, Inc.'s white paper, The Comprehensive Bill of Information, provides insight into the fundamental concepts that make up a BOI, which serves as the "blueprint" that describes your finished product. To fully define your company's intellectual property it is essential to capture, document and retain the BOI.


Nexa PLM 
Enterprise Integration
 exploits the full benefits of PLM, enabling the exchange of application-independent bills of material with your other critical enterprise applications such as MRP, ERP, and CRM systems. The fully integrated product environment that is facilitated by Nexa eliminates redundant pockets of information and re-keying errors between systems. Essig PLM has successfully delivered enterprise integration solutions to applications such as SAP®, Oracle® Manufacturing, SSA Baan™, J.D. Edwards OneWorld, and others, or can provide the tools or work with you to integrate Nexa with your own homegrown or legacy systems.
Features:
Consolidated enterprise product data
XML-based data exchange
Web-based information portals
Custom solutions