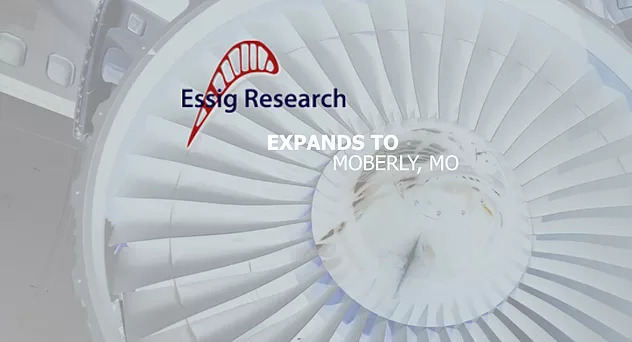 Date: February 5, 2018 –

News
The Moberly Area Economic Development Corporation announces the expansion of Essig Research Inc., a Cincinnati, Ohio headquartered company, into Moberly.   The company began their Moberly operation in January of 2018 at 1961 Hirst Drive, Ste J.,  with the hiring of Mechanical Engineers with degrees from Missouri Universities.
Joseph P Daly is the founder and CEO of Essig Research.  The company specializes in contract design and drafting for aerospace manufacturers. Their reputation in the industry is excellent and their expertise has helped win contracts with many of the industry leaders.   Essig CFO, Joseph E Daly, father of Joseph P Daly, grew up in Moberly.  Essig is excited to have the opportunity to expand operations into Moberly.
Although the company's exact job creation numbers have not been determined, the company is continuing to hire quality employees. The primary job functions will be mechanical engineering and mechanical drafting. The positions will perform design and drafting work for Essig's many large clients as well as work toward signing new business with the company. The company plans to work with the Moberly Area Community College and the Moberly Area Technical Center in order to increase it's employee complement from the Moberly area.
Corey Mehaffy of The Moberly Area Economic Development Corporation added, "I want to thank Essig for its commitment and investment in our community. These are excellent jobs that require serious technical skills, we hope this will serve as a catalyst for us as we look toward adjusting to businesses needing a more technical workforce."
Essig Research is currently headquartered in Cincinnati, Ohio with operations in Massachusetts, Indiana, Puerto Rico, Mexico and The Philippines. More information about the company and their products can be found at, www.Essig.com.  Please visit the career tab on their website for information on applying for drafting or engineering positions.